BEHIND THE BUBBLES:
History of Classic Italian Prosecco Cocktails
Get to know your favorite drinks' deep Italian roots
---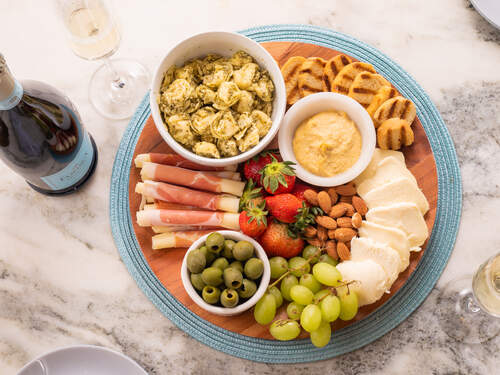 While still enjoyed across the world today, the Prosecco cocktail is anything but new. In fact, these beloved beverages have their roots in Italian heritage as far back as the 18th century! As Italian cities began developing liqueurs and culinary traditions of their own, some of the world's most widely loved cocktails came into being—and played a key role in the spread of the aperitivo tradition, or enjoying cocktails with our favorite people.

Today, the aperitivo is much more than a snack between lunch and dinner or a new way of saying "happy hour." The aperitivo represents Italian culture: it is a time to slow down, relax after work and talk with loved ones. It was also designed to help stimulate the appetite, making meals to follow that much more enjoyable. So if you're hoping to add an afternoon aperitivo to your daily routine, or are just ready to up your mixologist game for party planning, look no further.

Allow us to introduce the history behind a few of our favorite Prosecco cocktails, born and raised in our home country of Italy.

Cin cin!
As the name reveals, the Venetian Spritz is a longtime cocktail of choice among the people of Venice.

This Italian classic originated in the 19th century when Austro-Hungarian Empire soldiers occupied the country's northern region. The soldiers were caught off guard by Italy's bold wines —after all, they were raised on beer! To ease into the flavor, they often sprinkled their wine with a bit of sparkling water. They called these drinks "spritzes," derived from the German word spritzen, meaning "to spray." Before long, the popular and still-enduring Venetian Spritz was born!

If you're hoping to dive into aperitivo traditions for the first time, the Venetian Spritz is the perfect recipe with which to start. It is one of the world's most-loved aperitivo beverages, and Venetians often pair it with olives, chips, bread, salami and peanuts (also referred to as "cicchetti").
Enjoy!
As far as Italian cocktails go, the Hugo Spritz is relatively young. This drink was born in 2005, drawing inspiration from none other than the Venetian Spritz. Roland Gruber, a bartender from the village of Naturns in the Tyrol region of northern Italy, created his claim to fame when he set out to craft a lighter alternative to the classic Spritz.

Thanks to the Hugo Spritz's distinctive and refreshing flavor from elderflower liqueur and fresh mint, this concoction became tremendously popular throughout Italy, Eastern Europe, Austria and Southern Germany. Additionally, its popularity has recently been growing in the U.S.!

Many Italian locals pair this light and refreshing cocktail with bread, local mountain cheeses and Speck—a cured, lightly smoked ham. Try it out!
Venetian bartender Giuseppe Cipriani is the mastermind behind your favorite fruit-forward cocktail.

Due to an abundance of fragrant white peaches where he lived, Cipriani experimented with mixing peach purée with the local sparkling wine. Cipriani named his world-famous beverage after one of his favorite artists: Giovanni Bellini. This Renaissance painter created a lushly chromatic piece that depicted a saint in a light pink tunic, ultimately inspiring the Bellini. 

Thanks to Cipriani's celebrity fan base, the Bellini was quickly spread across the globe. The drink has gained so much fame that in 2001, the Italian Ministry for Cultural Affairs named Cipriani's bar a national landmark. Want to make a Bellini bubbly bar at your next brunch? We love to host with La Marca Prosecco mini bottles.
While this perfectly bittersweet beverage is just now receiving the appreciation it deserves—and a little bit of Internet virality—the Negroni Sbagliato has actually been around since 1972.

Mirko Stocchetto, a barman at the Bar Basso in Milan, is the one to thank. Stocchetto unintentionally added sparkling wine instead of gin to a Negroni and, in an instant, made cocktail history. His error led to the creation of the Negroni Sbagliato, which literally means "messed up" or "mistaken" in Italian. Stocchetto's so-called magic mistake resulted in a bright, vibrant and bubbly rendition of the classic Negroni.

So if you're looking for a drink that's a bit lighter—both in taste and in flavor profile—the Negroni Sbagliato is the perfect choice.
Now that you're a cocktail connoisseur and history buff all in one, you're ready for an aperitivo. So break open a bottle of La Marca Prosecco, grab your favorite snacks, and dig in. Cin cin!