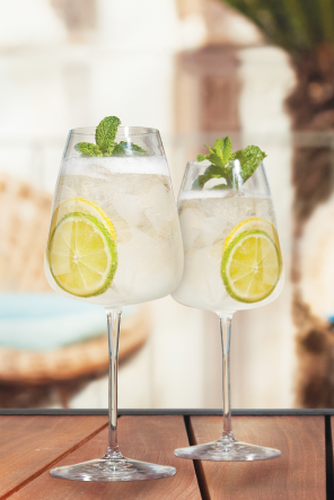 THE HUGO SPRITZ
---
Fresh, light, crisp flavor.
4 oz La Marca Prosecco
0.5 oz elderflower liqueur
1 oz club soda
4-5 mint leaves
Garnish with mint sprig, and lemon or lime
Release the mint oils by holding 4-5 leaves in your fingers and rubbing the interior of a Bordeaux wine glass, then drop the leaves inside. Fill the glass with ice, followed by La Marca Prosecco, elderflower liqueur and club soda. Stir gently and garnish with mint sprig and citrus wheel.
About the Recipe
In 2005, Roland Gruber, a bartender from the commune of Naturns in the Tyrol region of northern Italy, set out to craft a lighter alternative to the Venetian Spritz. A tremendously popular drink throughout Italy, Austria and southern Germany, especially during summer, the Hugo's distinctive and refreshing flavor is derived from elderflower liqueur and fresh mint.
MORE LA MARCA PROSECCO COCKTAILS