LA MARCA PROSECCO LUMINORE SUPERIORE D.O.C.G.
La Marca's Finest Sparkling Wine
Hailing from the sun-drenched hills of Italy's highest wine destination, Luminore is part of a prestigious segment of Proseccos with the designation D.O.C.G., meaning it's one of Italy's finest wines. Luminore sparkles with a pale, golden straw hue and lively bubbles, bursting in the glass. Delicate aromas of white flowers and stone-fruits complement the soft, creamy-texture. Subtle hints of fresh citrus, pear and nectarine round out the exquisite palate. Clean, crisp acidity balances a touch of sweetness and offers a light and refreshing style.
HOW TO PAIR YOUR LUMINORE
Recommended Cuisine
Versatile and elegant Luminore Prosecco by La Marca sparkles by itself, pairs well with foods, and illuminates all life's special occasions. Enjoy a glass as an aperitif, or enjoy alongside cuisine like grilled seasoned chicken or pork, or an Italian-inspired dessert of panna cotta with lemon zest.




DISCOVER BUBBLY COCKTAILS
Explore our sparkling selection of La Marca Prosecco cocktail recipes.
WANT MORE LA MARCA PROSECCO?
The La Marca blog has your inspiration for all things serving, pairing, and enjoying Prosecco.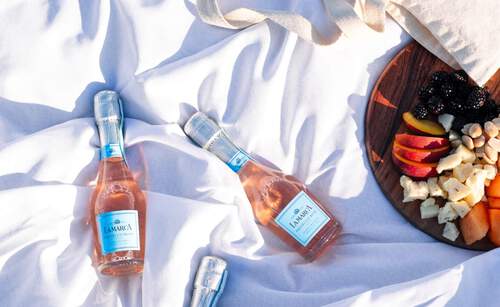 DISCOVER LA MARCA PROSECCO
Add some sparkle to your shopping cart.