Swoon-Worthy Gifts for Your Whole List
Make Valentine's Day Gifting a Breeze with La Marca
While we at La Marca Prosecco believe that love should be celebrated every day, we appreciate how Valentine's Day gives us the opportunity to celebrate those we care about: our family, our friends, our partner, and even ourselves. Whether you want to plan a memorable Valentine's gathering, or need inspiration for a romantic gift basket, La Marca is here to help. Just call us Cupid.
For Family, Friends, and Co-Workers: Build the Perfect Prosecco Gift Basket
Valentine's Day is a great time to show your friends and loved ones how much you care. Consider surprising them with something special, like a bubbly-based gift basket personalized to the things they love. Here are just a few Prosecco pairings to get you started.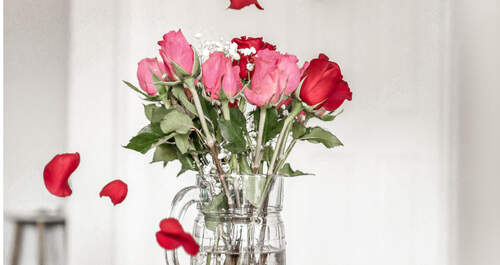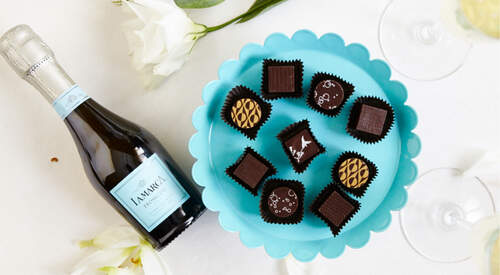 V-Day Rosé Basket: Bubbly and lively La Marca Prosecco Rosé (in a full size or in adorable 187mL mini bottles) is the centerpiece of this gift basket, which is perfect since it comes in one of the Valentine's Day signature colors. Stay on theme with pink and red add-ons like face masks, candles, nail polish, candies, roses, and more. The result? A festive and thoughtful gift that pops in pink.
Pamper Basket + Prosecco: Start with your loved one's favorite things: books, pens, snacks, trinkets; the more personalized to them, the better. Then, tie the basket together with a bottle of Prosecco to enjoy alongside your carefully-chosen gifts. They'll know that you don't just adore them, you understand them—and that's what really makes love sparkle.
Everyday Elegance Basket: This gift basket theme is anchored by La Marca Prosecco Luminore Superiore. As our finest wine—and one that carries the prestigious D.O.C.G. designation—Luminore is a fantastic gift all on its own. However, it really adds to the elegance of a gift basket filled with items for a special Valentine's Day celebration such as flutes, cheese and crackers, dry pasta, jarred sauces and spreads, and other fine foods.
The Activities: Encouraging your friends to try something new is a fantastic way to make the gathering more memorable. Consider adding an interactive element to your BFF Valentine's Day gathering, such as taking an online cocktail making or charcuterie class together, building Prosecco gift baskets, or crafting Valentine's Day cards. Creating memories together is the best way to celebrate the holiday, and it just feels a little extra special with a flute of Prosecco in hand.
The Refreshments: Charcuterie is a friend group gathering staple, but wouldn't it be special to branch out this Valentine's Day? Consider hosting a "brunch for dinner" party and serving breakfast classics like waffles, eggs benedict, and bagels with spreads alongside bubbly brunch cocktails. You can even lean into the swap by encouraging your guests to wear their favorite silky PJs, sleep masks, and fuzzy robes to the event. A Valentine's Day pajama party theme is cute, comfy, and definitely one-of-a-kind.
For Your Partner: Craft a DIY Date Night
With the right bottle of bubbly and your favorite easy-to-replicate recipe, you'd be surprised how much Valentine's Day magic you can pull off right at home. Here's our favorite formula for a romantic DIY date night.

STEP 1: Set The Scene
Elevate your home table with a few key tips. First, select a color palette—are you craving an understated elegant look with Prosecco gold and touches of sparkle? Or, are you going bold with romantic red? Once you've decided, add a few thoughtful touches like cloth napkins, your favorite trays and glassware, and strategically placed candles. A centerpiece of matching flowers also helps make your table pop. A pro tip? Contrast statement flowers like peonies with accent blooms like chamomile or lilac.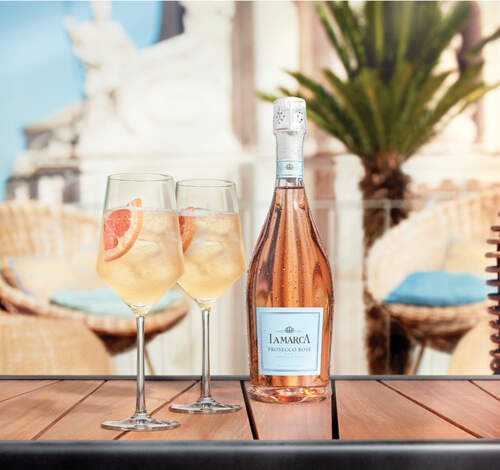 STEP 2: Make The Menu
You don't have to be a gourmet chef to cook something truly special. Simply search for a recipe that seems right for you, and don't be afraid to experiment. Here are a few simple dishes that pair perfectly with Prosecco (and might give you a good place to start): baked salmon, cacio e pepe, fish or crab tacos with endive slaw, goat cheese flatbread pizza, roasted chicken with creamy lemon sauce, and apple goat cheese salad. If you do get takeout, we won't tell.
STEP 3: Select a Signature Cocktail
Nothing says "special night" like a well-crafted cocktail recipe. Our cocktail page has everything: classic Italian cocktails, new creations from La Marca, and Rosé-based recipes. Pop into your favorite and get ready to impress!
For Yourself: Consider a Sparkling Splurge
Lastly, don't forget self-love. Treating yourself around Valentine's Day can look like whatever you want it to be. Maybe, it's a night in with bubbles (in the bath, or in your glass!).
Maybe it's giving yourself permission to purchase something in your shopping cart, or even cooking one of the delicious dishes we mentioned above just for you to enjoy. As you're busy crafting Valentine's Day magic for all the people you love, don't forget to slow down and show yourself just as much sparkle. You're worth it.

Follow La Marca on Instagram at @lamarcaprosecco for more cocktail recipes, hosting how-tos, and Pro-secco tips.