Reach for Prosecco Rosé
---
Cheers to a whole new shade of La Marca with Prosecco Rosé! Splashing into the sparkling wine world in December 2020, our playful pink drink is a bubbly new way to enjoy Rosé. From lively soirées to spontaneous celebrations—every bottle brings a pop of rosy fun.
More delicious details? Yes, please!
Did you know that classic Prosecco and Prosecco Rosé share the same white grape, Glera? But Prosecco Rosé is also uniquely blended with the red Pinot Noir grape—and that's how your Prosecco gets its tint of pink! Yep, just a dash of this bright, juicy fruit is all it takes to make it blush. And with both grapes grown near northern Italy's village of Prosecco, you're just one sparkling sip away from savoring the sunny vineyards found here.

Fun Fact: Every Prosecco Rosé bottle is vintage dated (or millesiato in Italian) so when you see this label—you always know the year the grapes were picked.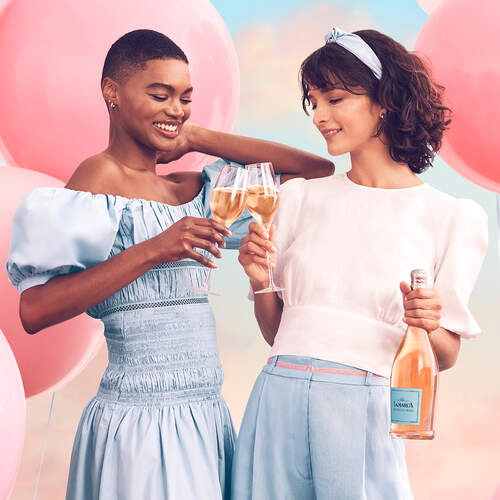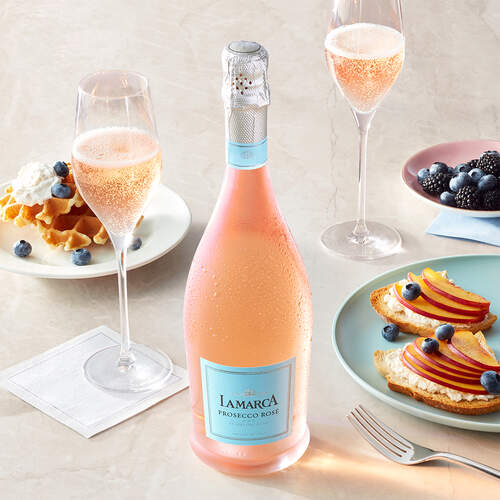 A refreshing pop of pink
Blending the bright, crisp fruit and floral essence of our traditional Prosecco with Pinot Noir's delicate elegance, La Marca Prosecco Rosé sparkles with notes of fresh-picked citrus, honeysuckle, peach and pear. Plus, with hints of ripe red cherry, raspberry and wild strawberry, every bottle is oh-so-refreshing—pairing perfectly with everything from celebratory cupcakes to your favorite brunch bites.
Pop, clink—toast to pink!
The rosy hue of La Marca Prosecco Rosé brightens any occasion—from mom's day brunches and girls' get togethers to pool-side days on the chaise. Or tune into a cozy evening in with good friends and clink glasses to life's sweetest moments. However you pop La Marca Prosecco Rosé, we recommend keeping a chilled bottle on-hand to savor and sip spontaneously.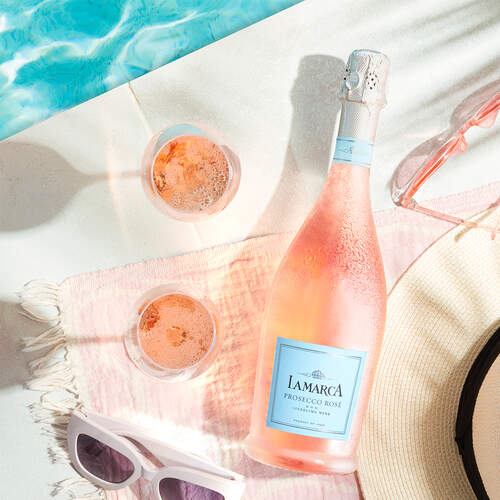 Reach for La Marca Prosecco Rosé for a refreshing pop of pink.