Sparkling wine is unmistakably divine, but when comparing the two most popular types—Prosecco and Champagne—you will discover two delicacies with many delightful differences. A quick peek at the when, where and how behind each of these wines is all you'll need to select your next bottle of bubbly with confidence!
Where are they made?
Prosecco is a sparkling wine produced only in the—wait for it—Prosecco region of Italy, just a stone's throw away from Venice. This idealistic setting is made up of beautiful, green hillsides and gets lavish amounts of both rainfall and sunshine. La Marca Prosecco is crafted in the heart of Italy's Prosecco capital, Treviso.

Champagne is produced exclusively in the—you guessed it—Champagne region of France, about 120 miles East of Paris. The Champagne region has a cool, moody climate and features a unique blend of rolling hills and lush forests.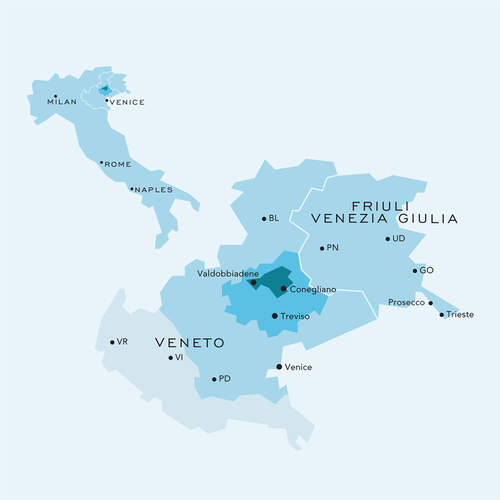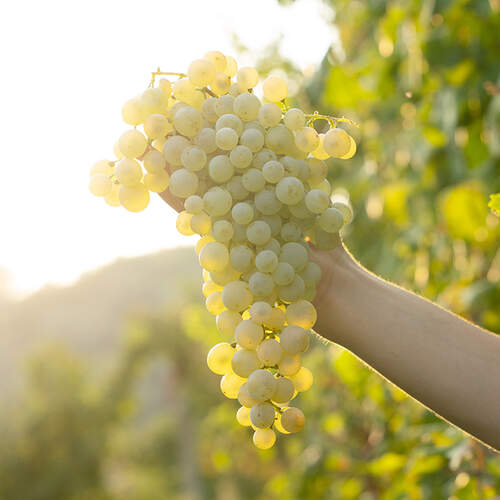 How do you make them?
Did you know that all Sparkling wines start as a still (non-bubbly) wine? Prosecco is made from Glera grapes while a Champagne is a blend of Chardonnay, Pinot Noir and Pinot Meunier grapes. The signature bubbles in both wines are then achieved through a second round of fermentation. That's right—Sparkling wine is so nice it's fermented twice!

It's here, in the second fermentation, where Prosecco and Champagne really begin to take different paths. Champagne is fermented inside the bottle using the traditional Methode Champenoise. Prosecco undergoes a newer, innovative process called Charmant Method, which takes place before the wine is bottled. While each of these methods allow the grapes and wine to taste their best, the Prosecco method also happens to be more efficient, allowing it to offer incredible taste with a more petite price tag.
How do they taste?
While both Prosecco and Champagne are delicious in their own ways, they taste very different. Champagnes are creamy and nutty with yeasty aromas like baked brioche, while Proseccos are crisp and refreshing with more fruity and floral notes. You'll also notice that Champagne produces teeny tiny bubbles, while Prosecco bubbles are lively and abundant.

La Marca Prosecco opens with aromas of fresh-picked citrus and honeysuckle blossoms, followed by fruity flavors of green apple, juicy peach and ripe melon, and framed by hints of minerality.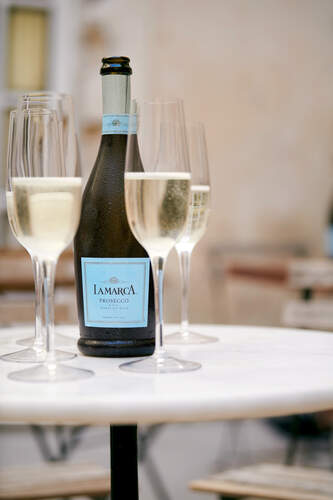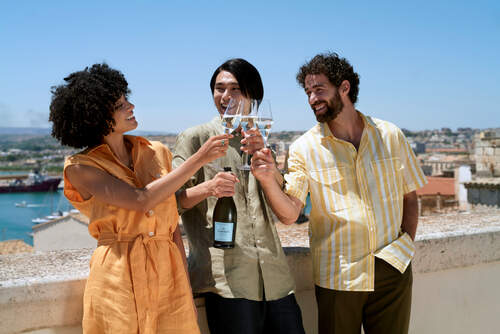 When should they be enjoyed?
Champagne is an excellent choice for decidedly formal events and is often served as a toast at weddings or other major celebrations. But what you may not know is that La Marca offers an extra special Prosecco for those especially noteworthy moments as well! Luminore by La Marca has the delicate bubbles and dry taste that one can find in Champagne while still carrying the crisp and refreshing notes we love about Prosecco.

In contrast, La Marca Prosecco and Prosecco Rosé are perfect for life's more spontaneous moments. From the sunny hills of Prosecco to your glass, La Marca Prosecco was designed to bring joy to everyday moments. Bright and bubbly, it pairs with any food and any occasion, big or small. From a garden party to a casual night in, La Marca Prosecco is the easy choice that will tickle everyone's fancy.
Reach for La Marca Prosecco for a refreshing pop of delicious, everyday sparkle.