Get Ready for an Italian-Inspired Summer with La Marca
SUMMER THE ITALIAN WAY—FROM ANYWHERE!
---
The sun. The sidewalk cafes. The seaside escapes. Summer in Italy is magical! But you don't have to be overseas to let the Italian spirit of la dolce vita inspire you. At La Marca, we dare to make every day of summer count—taking inspiration from our Italian roots—and know summer is as much a verb as it is a season. That's why we've crafted a guide to help you summer the Italian way, no matter where you are.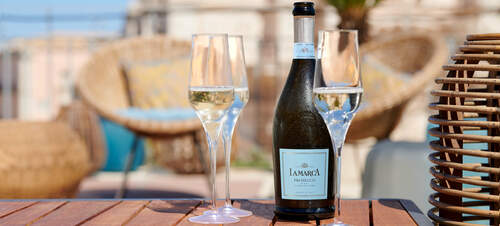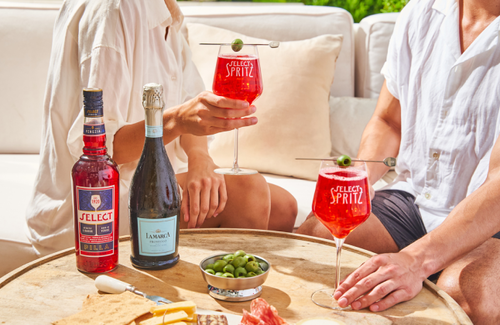 ARRIVE IN STYLE.
A few simple style and personal care tips will help you embrace summer with Italian elegance.
. Savor the sun (safely). With over 5,000 miles of beautiful coastlines, it's no wonder why many inland towns in Italy are deserted in summer—people are at the beach! But Italian women know it's important to protect your gorgeous, gorgeous skin with spf. You can purchase sunscreen in mini travel bottles to fit in your beach bag, but sunscreen is also found in BB creams, foundation, deodorant, and lip balm. Wherever you go, make sure you're good to soak in the sunshine—while staying protected.

. Accessorize like an Italian. We know it's all about keeping layers light, but a few artful touches can turn up the heat on a summer look. Light summer scarves remain a fashion staple in il bel paese ("the beautiful country," as many Italians call their home).

. Change up your glasses game. Summer is also the perfect time to experiment with sunglasses. Try a trend that you love, whether it's branching out with heart-shaped frames or having fun with tinted lenses (do we hear La Marca blue?).
BE READY FOR ANYTHING.
From a day on the beach to an urban adventure, Italians know it pays to be prepared. Here are a few tips for taking your Prosecco on the go!
. Pack a piccolo. Prosecco mini bottles, or piccolos in Italian, pack easily into a beach or tote bag—letting you have aperitivo hour anywhere. Pack non-glass travel flutes to keep your sips safe and beach-approved.

. Deconstruct a cheese board. A laid-out cheese board doesn't travel as well as we'd like, but there's a solution. Simply pack your ingredients into a travel container with different sections or levels, and lay everything out once you're at your destination. Beautiful. Buon appetito! And if you need some help picking out your Prosecco and charcuterie pairings, we have your inspiration here.

. Capture every moment. Instant cameras can make any beach day feel like an Italian escape. Pack one to grab some candid snaps of your friends enjoying the fun. Don't forget an extra roll of film!

. Need more inspo? Check out our guide to planning a Prosecco Pool Day.
ENJOY EVERY MOMENT.
La dolce vita is all about savoring the little things in life. Make the most of your summer days with these simple pleasures.
. A beach read. Nothing pairs together quite like the beach and the perfect book. Set the tone with a lighthearted novel set in Italy. Need a recommendation? Check out Goodreads or Book Browse for inspiration.

. Games. Bocce, a ball-based lawn game popular in modern Italy, is an excellent way to spend a summer afternoon with loved ones. There are even travel bocce ball sets that let you bring the fun with you.

. Music Music helps set the tone for a perfect summer day. Always pack a travel speaker, and check out the Official La Marca Prosecco Summer '22 playlist, Pop into Summer, on Spotify.
Here's to a summer of sun, sparkles, and oh-so-perfect days. Cheers.