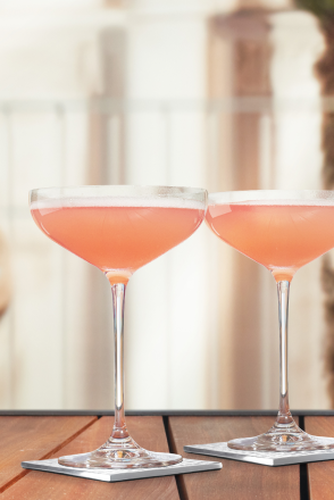 THE BELLINI
---
Sweet peach meets crisp sparkle.
6 oz La Marca Prosecco (187mL bottle is perfect serving size)
2 oz (¼ cup) white peach purée
1 squeeze raspberry syrup
Pour purée into chilled flute. Add syrup. Top with Prosecco and stir gently.
About the Recipe
Giuseppe Cipriani, founder and barman of the legendary Harry's Bar in Venice, created the Bellini in 1948. Due to an abundance of fragrant white peaches, he experimented with mixing peach purée with the local sparkling wine. Cipriani was inspired to name his drink after the Renaissance artist Giovanni Bellini, whose lushly chromatic painting depicted a saint in a light pink tunic.
MORE LA MARCA PROSECCO COCKTAILS