When it comes to knowing all the ins and outs of serving sparkling wine, there is so much to learn! At the end of the day, opening a bottle of La Marca Prosecco is about celebrating joy and connecting with friends. Freshen up your sparkling skills with a few basic tips on how to serve Prosecco. This way, you'll be ready to pour with confidence at your next celebration!
Step 1: Store Your Prosecco
After you've purchased a bottle (or two) of La Marca Prosecco, you'll want to find an ideal spot to keep your wine until it's time to enjoy. And believe us—we understand wanting to leave it on the countertop within arm's reach. But what you really want to do is store it in a cool, dark place in an upright position. And although Prosecco is crafted to be served soon after purchasing, this will help you keep it fresh until you're ready to serve.
Step 2: Chill Before Serving
Prosecco is best served chilled—between 40 and 45℉. If you have an hour or two to spare, a refrigerator is typically kept at or around 40℉ and will get your Prosecco to the ideal temperature in no time. Celebrating spontaneously? You can quickly chill your Prosecco in an ice bucket with water and ice. Keep the opened bottle on ice between pours to keep the perfect temperature.
Step 3: Uncork the Bottle
First, remove the foil. La Marca Prosecco has a subtle silver tab on the foil to help you remove it cleanly. Next, place a small hand towel over the wine cage at the top of the bottle and twist the key to free the cage. Now that you've reached the cork—yay!—re-cover it with the hand towel and slowly, but firmly, twist the bottle while keeping a tight grip over the cork. (Fun fact: Most people twist the cork, but it's much easier to twist the bottle!) You will hear a muffled pop, or no pop at all, as the cork leaves the bottle. If you want to embrace the "pop" of opening Prosecco, set aside the cloth after removing the wire cage. Grip the cork, point it away from your guests, and twist the bottle until the cork pops out. Pop or no pop, learning this step is a reason to celebrate in and of itself!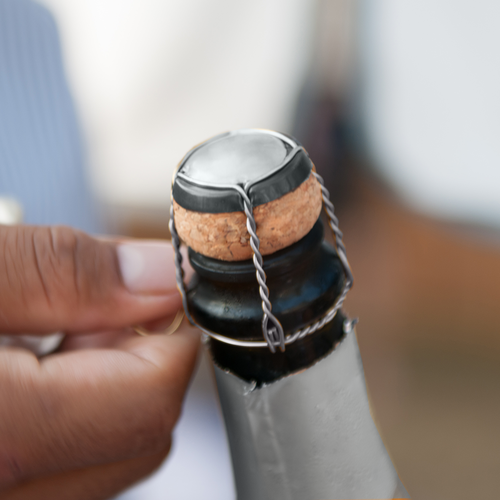 Step 4: Choose Your Glassware
Choosing the perfect glassware comes down to occasion. If you're enjoying Prosecco at home, a stemless flute is a charming (and less topple-prone) alternative to the classic stemmed flute. If you're hosting a get-together with friends, stemmed flutes or coupe glasses make for elegant clinking. Should you decide to mix up some delicious Prosecco cocktails, use whichever glass the recipe calls for.
Step 5: Pour The Prosecco
How do you pour your Prosecco so that the bubbles stay vibrant and inside the glass? Simply hold your glass at a 45-degree angle, then pour the wine slowly down the side of the glass. Be sure to stop the pour with room to spare to avoid a bubbly overflow. If you're adding Prosecco to a cocktail, always add the Prosecco last for optimal bubbles.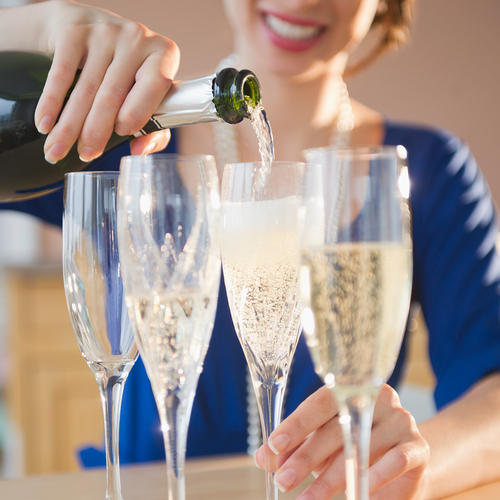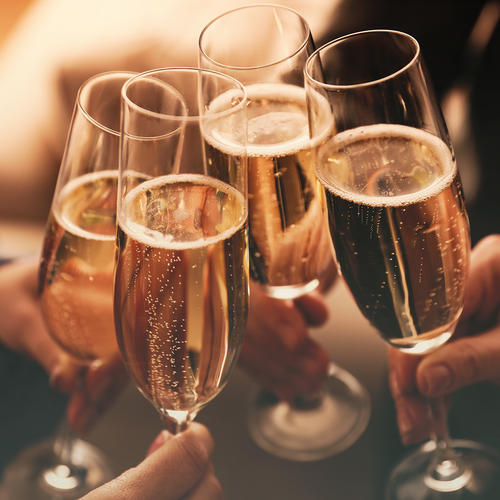 Step 6: Clink!
This is our favorite part. Once each person has their glass, it's time to clink glasses! Celebrate moments big and small as you enjoy the sparkle of La Marca Prosecco with friends and family. Now that you know how to serve Prosecco with confidence, you can focus on enjoying the moments that matter most. You're ready to pop, pour and clink with La Marca Prosecco!