Crafted in the heart of Italy, La Marca Prosecco is America's favorite sparkling wine. Why? Because La Marca Prosecco has a light, refreshing flavor that pairs well with all of your most-loved dishes, plus its bubbly personality fits any occasion. Knowing Prosecco makes it sparkle all the more. Here's what you need to know whenever Prosecco bubbles up in conversation with your friends.
Pop Over to Italy
Sparkling wine is all about the grape and where it's grown. So, let's pop over to the Veneto in northeastern Italy, where graceful hillside vineyards dot the landscape. Prosecco is made with the Glera grape, which is prized for its delicate flavors, creating a refreshing wine.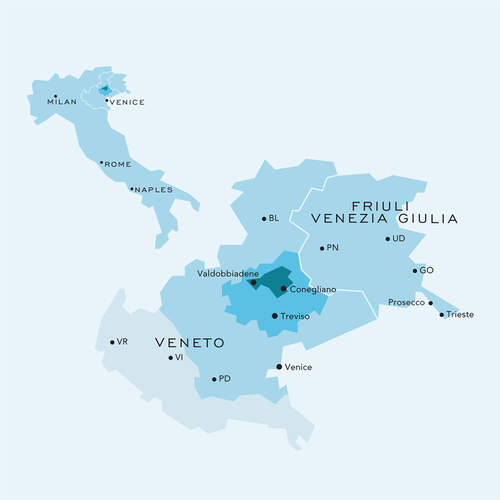 All the Right Notes
Fun fact: There are different styles of Prosecco. La Marca makes three to celebrate everyday moments and illuminate life's most brilliant occasions.
Our La Marca Prosecco D.O.C. brings the sparkle to everyday celebrations, whether it's paired with brunch bites like fresh baked goods or enjoyed on its own as an aperitif. Its classic Prosecco characteristics of citrus and floral are backed by notes of green apple and juicy ripe lemon, finishing with a tantalizing hint of sweetness.
Prosecco is now in pink! Lighten up your poolside gatherings and spontaneous brunches with a sparkling new way to enjoy Prosecco. La Marca Prosecco Rosé D.O.C. has the bright, crisp citrus and floral essence of Prosecco with a playful pop of pink of Pinot Noir grapes.
Shining from first toast to final sip, our Luminore Prosecco Superiore D.O.C.G. brings light to life's special moments. Grown in a special area within the Prosecco region, Luminore is the ultimate Prosecco using the rarest and most valuable Glera grapes. Luminore is a brut Prosecco, meaning it's dry, so it pairs perfectly with elegant entrées like seafood and pasta dishes.
Show us how you sparkle
Now that you know your La Marca Prosecco, you can enjoy it even more when inviting it into life's smallest and biggest celebrations. Whatever the moment is, La Marca Prosecco is a sparkling companion – and that's something we can clink our glasses to!

Enjoy of the elegance of Italy at home with the and sparkle of La Marca Prosecco.