5 Tips for Gifting Bubbly

---
Our favorite go-to present for the people we hold dear is a bottle of refreshingly crisp, effervescent wine. But how do you make the gift of wine as thoughtful as the person you're giving it to? We're sharing 5 quick tips to help you show your friends just how much you appreciate them with the gift of La Marca Prosecco.
1. Practice your penmanship.
A hand-written note of gratitude goes a long way—especially when it's fastened to a bottle of La Marca Prosecco. The wine itself is the focal point of the gift, of course, so you can keep the handwritten message short and sweet. Something as simple as, "You bring sparkle wherever you go. Thank you for being so exquisitely you," will speak volumes to your cherished friend.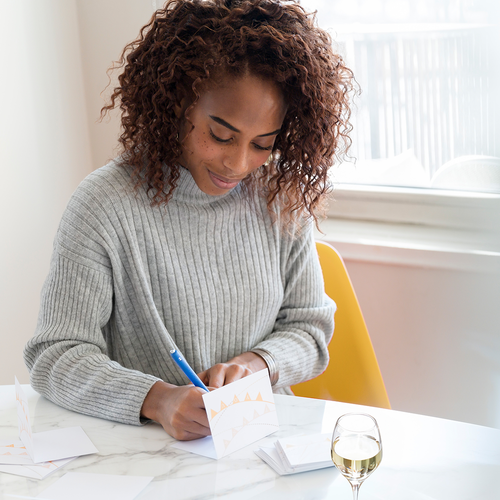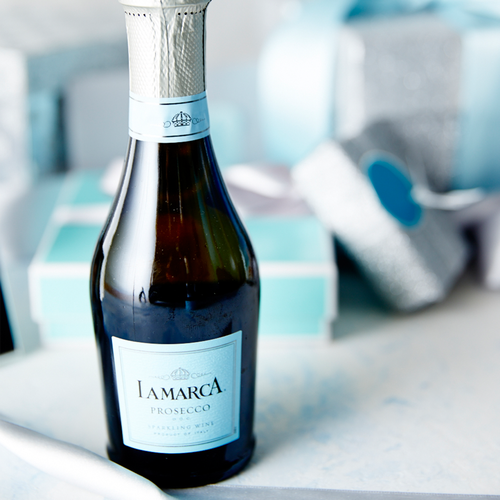 2. Give a token of appreciation.
For the people who make your world go round, have a reserve of La Marca Prosecco minis (187mls) at the ready. Coworkers, mail carriers, gym class instructors…the people whose hard work makes your life (and countless others') just a little bit brighter each and every day. A mini gesture can go a long way in expressing a huge "thank you"! Take a moment to show them you care.
3. Dress up the bubbly.
Gift bags are nice, but we prefer to highlight the elegant label by fastening a silk ribbon bow, gift tag or other add-on that doesn't cover the already-lovely Prosecco bottle. It's just enough to transform the wine into an unmistakable "gift" while allowing the classic La Marca blue to shine through.


4. Make it a gift set.
Display a bottle of La Marca Prosecco in a gift basket with other holiday goodies: gourmet chocolates, a gratitude journal, a scented candle, etc. And for the friend who loves Prosecco as much as you do, put together a gift basket featuring the full La Marca trio: Prosecco, Prosecco Rosé and Luminore. It's effortlessly stunning!


5. Go the extra mile.
For the friend who is more than a car-ride away, ship a bottle directly to their door for a video chat cheers! As you complete your online purchase, remember to add a personal note that will arrive with their wine, inviting them to join you for a virtual meetup.
With La Marca Prosecco, it's easy to Make Everyday Sparkle as you put together thoughtful gifts for everyone on your list.