LA MARCA PROSECCO ROSÉ D.O.C.
Playfully Pink™
Sparkling Wine
Bubbly and lively La Marca Prosecco Rosé was crafted in the heart of Italy. This playful pop of pink offers a new way to enjoy Prosecco: with the bright, crisp fruit and floral essence of our traditional Prosecco combined with the delicate elegance of Pinot Noir. La Marca Prosecco Rosé boasts classic notes of fresh-picked citrus, honeysuckle, peach and pear, blended beautifully with hints of ripe red cherry, raspberry and wild strawberry. Zesty, refreshing, and effervescent, La Marca Prosecco Rosé is perfect for any soirée or spontaneous celebration.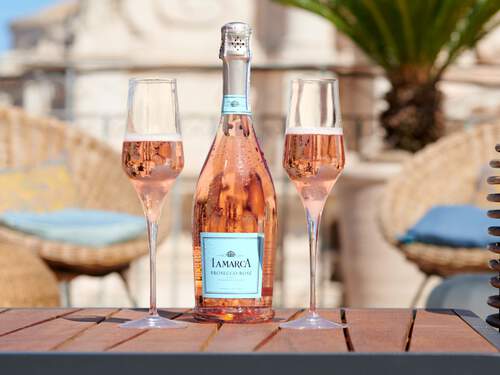 ABOUT THE PROSECCO
How La Marca Prosecco Rosé is Crafted
La Marca Prosecco Rosé was released in 2020, after the Consortium for the Protection of Prosecco D.O.C. concluded a study about how the liquid could be created. The results? The ideal blend is crafted with 10-15% Pinot Noir grape, lending the light and floral taste of the traditional Glera grape a structured, bold flavor. That's how the best sparkling Rosé was born!
HOW TO PAIR YOUR PROSECCO ROSÉ
Recommended Cuisine
The lively bubbles of La Marca Prosecco Rosé act to cleanse the palate with each sparkling sip. Therefore, recommended foods include salmon and avocado salad, with salt, pepper, and olive oil; soft, spreadable cheeses like burrata, served with fresh bread; and fruits like watermelon, cherries, and blueberries.

A light and bright staple, Prosecco Rosé can be enjoyed year-round. In the colder months, enjoy your wine with cozy dishes like an apple and goat cheese salad, warm baked brie, butternut squash soup, or hearty roasted vegetables.
DISCOVER BUBBLY COCKTAILS
Explore our sparkling selection of La Marca Prosecco cocktail recipes.
WANT MORE LA MARCA PROSECCO?
The La Marca blog has your inspiration for all things serving, pairing, and enjoying Prosecco.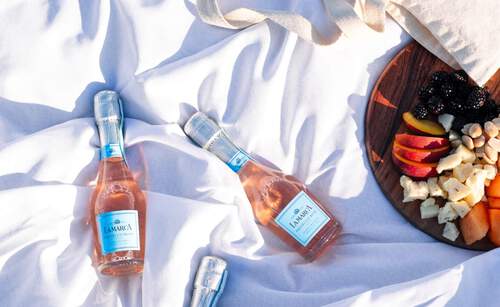 DISCOVER LA MARCA PROSECCO
Add some sparkle to your shopping cart.