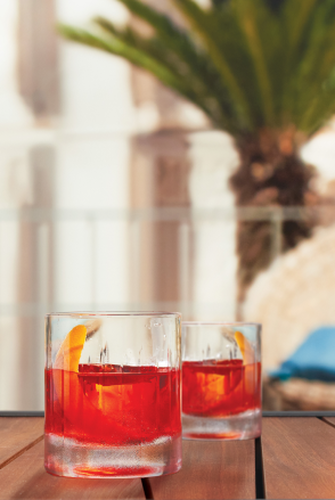 THE NEGRONI SBAGLIATO
---
Sparkling flavor in every sip.
1 oz. La Marca Prosecco
1 oz. Aperitivo
1 oz. Sweet Vermouth
Orange Peel
Combine sweet vermouth and Aperitivo in an ice-filled rocks glass. Top with La Marca Prosecco. Stir gently and garnish with orange peel.
About the Recipe
In 1972, Mirko Stocchetto, barman at the Bar Basso in Milan, unintentionally added sparkling wine instead of gin to a Negroni and made cocktail history. His error led to the creation of the Negroni Sbagliato, meaning 'messed up' or 'mistaken' in Italian. Stocchetto's 'mistake' is a bright, vibrant and bubbly rendition of the classic Negroni.
MORE LA MARCA PROSECCO COCKTAILS