Celebrate the Holidays Come La Famiglia
---
The holidays are a magical time in Italy. Intimate celebrations with loved ones, full-flavored foods, and warm hospitality are just some of the ways that Italians embrace la dolce vita around the holidays—and we're here to help you infuse your festivities with that same sparkling spirit. Happy holidays...or as we say, buone feste!
Spend More Sparkling Time Together
Two national holidays in Italy—December 8 and January 6—bookend an almost month-long festive season. That means more time to celebrate with loved ones! Once they're together for holiday parties, Italians pass the time with conversation and card games like Bestia and Sette e Mezzo over Prosecco cocktails. Let the spirit of Italian hospitality inspire you to host small gatherings in the weeks leading up to the holidays; and consider infusing your winter happy hours with a bit of holiday cheer through festive cocktails, decor, or games.
Delight In Traditional Dessert
Sweet treats are king during the Italian holiday season, with loved ones gathering over delicious desserts like panettone, pandoro, and mostaccioli spiced nut pastries. Italian holiday cookies, another festive dessert staple, are simple to create and even easier to enjoy. Make them at home and serve alongside your favorite cocktail—or a flute of La Marca Prosecco Luminore, our finest Italian sparkling wine.

Italian Holiday Cookies
Cookies
2 eggs
6 tbsp vegetable oil
½ cup sugar
1 tsp vanilla extract
2 cups flour
2 tsp baking powder
1 pinch salt

Glaze
2 cups powdered sugar
1 tsp vanilla extract
1 pinch salt
3-4 tbsp cream or milk, warmed
1. Whisk together eggs, oil, sugar, and vanilla extract in mixing bowl. Stir in flour, baking powder, and salt.
2. Roll dough by tablespoonfuls into balls. Chill balls of dough for at least an hour (or freeze for 15-20 minutes). Place cold dough balls on cookie sheets lined with parchment paper.
3. Bake at 350° for about 9 minutes. Bottoms will be lightly browned, but tops should still be white. Remove cookies to cooling racks and cool completely.
4. For glaze, combine all ingredients in small bowl and whisk until smooth, adding enough warm cream to get a thin but creamy consistency.
5. Dip tops of cookies in the glaze, then top with sprinkles.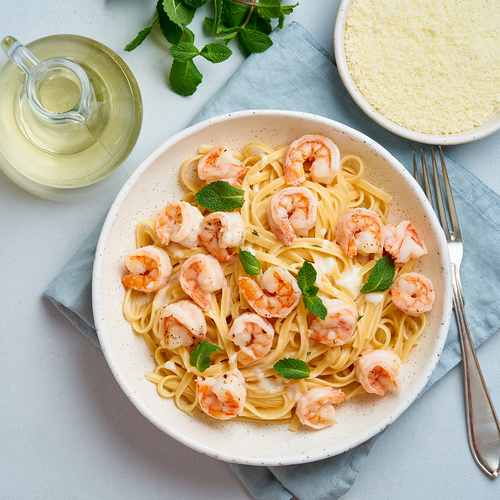 Enjoy an Italian-Style Festive Meal
Holiday meals in Italy typically follow a tiered format in which multiple seafood courses are enjoyed at a leisurely pace. In fact, the Christmas Eve meal is even called the Feast of Seven Fishes! Let Italians' elegant and innovative approach to dining inspire your holiday meal. An example of an Italian holiday dinner includes a few key steps.

● The starter course, antipasto, includes appetizers like fish crostini, shrimp cocktail, and mussels. Serve your first course with a cocktail like the Select Spritz, which acts as an aperitif to help stimulate the appetite and tastes delicious with small plates.

● Next comes the first course, or primi, which includes seafood-led pasta dishes such as fish ravioli or spaghetti allo scoglio (spaghetti with seafood).

● The main course, secondi, features a large seafood dish like swordfish parmigiana or spigolo all'acqua pazza (sea bass with cherry tomatoes, parsley, and garlic).

● The meal is served with hearty side dishes like roasted potatoes, baked pumpkin, and sauteed spinach, and followed up with sweet treats and coffee.

Need some food pairing inspiration for crafting your own Italian-style holiday menu? Explore our suggested pairings for La Marca Prosecco, La Marca Prosecco Rosé, and Luminore.
Get Out and Play
Italians prioritize fun and togetherness during the relaxed holiday season. In Northern Italy, some towns host fantastic winter markets for holiday shopping, and it's also a common time to hit the slopes and spend a day skiing with loved ones. Elsewhere in the country, some Italian cities (especially Rome) are treated to the presence of zampognari—bagpipe players dressed as shepherds who go house to house playing seasonal songs. While these traditions are harder to replicate at home, they inspire us to embrace all the season has to offer and plan festive outings with friends and family. Consider a fun day of ice skating, caroling, or cookie baking before finishing with a sparkling cocktail hour!

Now that you're familiar with how to enjoy the holidays the Italian way, you're ready to embrace a season of fun, togetherness, and la dolce vita. Don't forget to tag us in your festive photos on social with #LaMarcaProsecco.

To all our fans, and our Sparkle Society members, buone feste from La Marca.