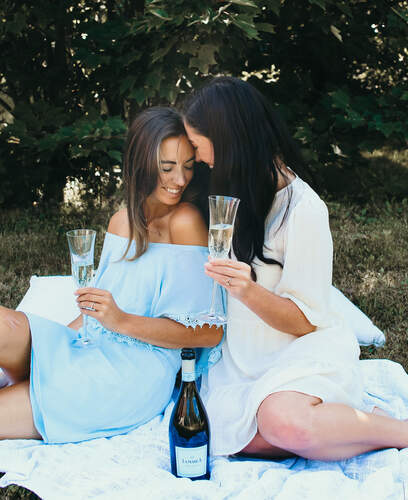 May is a season to toast all celebrations:
Mother's Day, college graduations, a much needed long Memorial Day weekend,
and all the special birthdays!

<b>About the Wine:</b><br> Our delicate La Marca Prosecco has a pale, golden straw color and sparkles with lively effervescence. Opening with aromas of fresh-picked citrus and honeysuckle blossoms, the crisp, clean palate brings fruity notes of green apple, juicy peach and ripe lemon, framed by hints of minerality. The finish is light and refreshing with a tantalizing hint of sweetness. <br><br> <b>Winemaking Notes:</b><br> The grapes for La Marca Prosecco were selected with great care from small vineyards throughout the Prosecco DOC. After harvest, the grapes were crushed and then pressed in gentle membrane presses. The juice was allowed to cold settle before initial fermentation in upright stainless steel tanks at a maximum temperature of 65°F. The still wine was aged on its lees prior to secondary fermentation. <br><br> <b>Recommended Cuisine:</b><br> La Marca Prosecco has the charm to stand alone as an aperitif, but it also has the body and the acidity to pair well with a range of foods, from seafood and mild cheeses to rich pasta dishes and decadent desserts. <br><br> La Marca adds sparkle to bubbly brunch bites, like classic eggs benedict, chorizo chilaquiles or chicken and waffles. For a crisp and vibrant dinner party, pair Prosecco alongside fresh-caught crab or fish tacos with endive slaw, goat cheese flatbread pizza or roasted chicken with creamy lemon La Marca sauce.
We apologize but this product can not be shipped to your selected state.
Shining from the first toast to the last sip, our playful pop of pink offers an effervescent new way to enjoy La Marca Prosecco. Featuring the crisp fruit and floral essence of our traditional Prosecco with the delicate elegance of Pinot Noir, La Marca Prosecco Rosé sparkles with our classic notes of fresh-picked citrus, white flowers and pear, blending with hints of ripe red cherry, raspberry and fresh strawberry. Refreshing and zesty, this bubbly is perfect for both lively soirées and spontaneous celebrations.
La Marca Luminore Prosecco Superiore 750ML
Luminore sparkles with a pale, golden straw hue and lively bubbles, bursting in the glass. Delicate aromas of white flowers and stone-fruits complement the soft, creamy-texture. Subtle hints of fresh citrus, pear and nectarine round out the exquisite palate. Clean, crisp acidity balances a touch of sweetness and offers a light, refreshing style.
We apologize but this product can not be shipped to your selected state.
Mix & Match 4 & Enjoy 25% Off.
On 750mL Bottles of La Marca Prosseco.
Plus, Shipping Included!
Use Code: